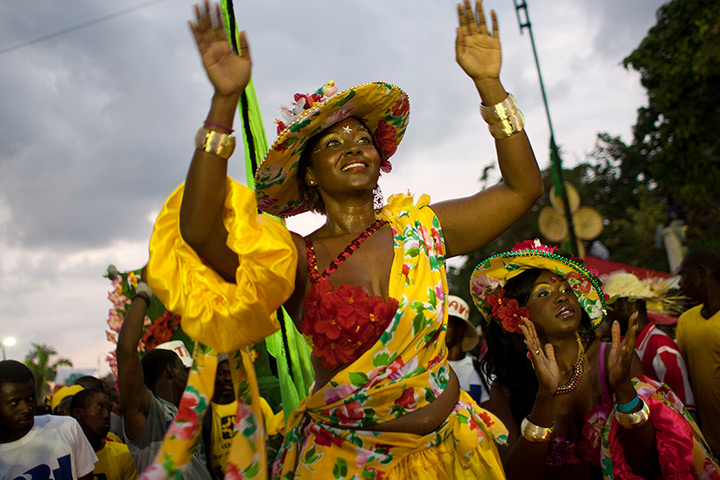 There have been a few carnivals that have come and gone in Haiti since we have been here.  Some relate back to Voodoo, some are Catholic holidays, some just government parades and others are we-should-have-a-holiday 😀
This is the best description I can find about what this carnival is about…
"Champs de Mars is boasting the $1.6 million Carnival of Flowers. Intended in part to help boost Haiti's appeal on the Caribbean tourism circuit (and in part to draw attention to the "progress" of relocating Haiti's destitute and homeless out of sight), it's a full-on three days of parades, raras, crowds and shows by Haiti's most popular bands. Monday and today were declared national holidays just for the party." (Ben & Lexi)
Not having seen a festival in Haiti, I was up for going.  Scott, another missionary, had been to it the day before.  Figured he would have some insight on going.  We talked and he said he would be interested in going and offered to drive.  I had asked Pierre about where to park downtown and he said he would like to go.  Alright!
In the past these carnivals often get rough.  There can be people fighting, pick-pocketing, shootings, trampled and at worst people dead.  I hadn't heard of any big uproars… so why not make it an adventure.
We left our wallets behind, brought a little Haitian money with us and drove to the carnival.  As we approach downtown, in timely fashion, Pierre brings up the point that fights and riots usually break out on the last day of carnival because if they broke out on the first two days then they would shut down the carnival.  I blurted out, Now you tell us!
When we arrived, you could here the drums and music playing.  One group was singing a popular Christian church song.  Of course, we just wanted to relax, sit down and enjoy the music… so…
We decided to just blend in…
As you can see, we are sporting authentic clothing to help us blend in.  The guy in the middle of us was just way to funny.  Evan says, He's probably the coolest guy I have ever met (he meant to also add – besides me, of course 😉 Ha!
The parades of people just came one after the other.  Some with music, some with snakes on their head, and still others dressed up as past presidents.
Fascinating to see how this culture celebrates, isn't it!
As the evening approached, the streets became busier and busier.  We walked through most of the major areas. Including, some of the Haitian National Television stations.  We were featured for a short time on one of them 😀  It was obviously because of the cool hats we were sporting!  Bought those hats for a little over 50 cents.
 Ann ale – Let's go!  
It's time to head back.  At this point we are smushed together so tightly you had to force your way through people.  At this moment, I realized this is how people get trampled at this things!  If you are claustrophobic, this would be your worst nightmare!  As we were attempting to cross the road and make our way home, I probably could have lifted my feet off the ground and just floated along with the pack of people.  The small amount of money I did bring with me got pick-pocketed during this exiting process.
Once we made it to the other side, we were free again and waved good-bye to the adventure.  It was a good time to leave as the rara bands started to make their appearance.  On the last day the rara bands begin celebrating some of their voodoo roots. Orevwa, carnaval de fleurs!
I wonder…
While walking around I had a few people ask me if I like Haiti.  I said that I loved Haiti and thought it was a great place.  Their faces would light up, as they responded with a sense of pride for their country.
What were the festivals like during Jesus' time? There are many festivals mentioned in the Bible and a few attended by Jesus.  Some festivals were celebrated with trumpets (Rosh Hashanah) and I was reading some celebrated by decorations with a harvest theme (Feast of Shavuot).  Were they joyful with bands playing hand-made instruments?  Did they have people with snakes on their heads?  What did Jesus do during the festivals?  We he spoke, did he just do it on the side of the road?  In the middle of the street?
Where did everyone get these amazing costumes! Is this where some of the 1.6 million dollars went?  Just curious…
Here are a few more pictures from the festival.  Thanks to Evan Bartlett for letting me post these from his camera.