The run is finished.  This untold story happened during the run.  Our camera's were not on and our social media sites were almost silent.  We shared what little we could but with the intensity of the moment, it was the last thing on our mind.
—
Rewind a few months.  I am just getting to this post!
—
You might be thinking, why would I want to hear about the run that is already finished?  Well, here's why.
One of the most dangerous, craziest days of the run happened in Saint Marc.  It's the same day that I ran the full marathon with Barry. It was exciting to be running along with Barry. I find that I have already forgotten so many details of the day that I wish I had captured.  It is times like these I wish I had a pair of Google Glasses to record our every movement for later retrieval.
It is the 9th day of the run and we start out at the usual 5am time. I remember so many dark mornings being so peaceful. On this particular morning, I can faintly see a burning candle and a shadow of a women preparing for the morning.  It is a great time to start off running during the coolness of the morning.
Less than an hour into the run, we enter the edge of Saint Marc. Just inside the city limits a police officer has his lights on and directs us to turn right rather then continue on the main road. We expected some detours in Saint Marc so we follow his path and continue conversing among ourselves, not thinking anything of the detour.
Barry, Joel and myself are the runners this particular morning. Jeff is filling in for me on the motorcycle. Following behind him, the ambulance.  Easily enough, between the vehicles, we confirm a route back to the main road.  A few days before we were trying to navigate the roads through Port-Au-Prince.  This is an easy detour, so we thought.
As the dawn breaks, glimpses of the sun begin to bring light to the dark streets.  We can smell the odors of the city. Our legs are fresh. Our feet, seemingly in unison, gripping the ground and pushing us forward.  As I am lost in a daze of running, one of the guys gives us  all a heads up.  We see a large TapTap ahead parked in the road. We all veer to the right shoulder to pass.  As I am running past, the windshield looks like a spider web as if it was hit with something heavy.
I hear piece of glass break. I look back at Jeff on the motorcycle. I could see that he ran over a glass shard on the road. Then seconds later, I hear another one. I am thinking, I want to ask Jeff to try avoiding the glass.  I really don't want a flat tire.  As I am about to open my mouth, it hits me!
The break of the dawn glimmered through the buildings reflecting off a sea of broken glass.
The sun revealing broken glass bottles, broken mirrors, and other foreign objects scattered all over the road! This was a protest and at first sights, a dangerous one!
Looking for an escape, Joel looks behind and catches a glance of a man appearing from the shadows. Before he has words to warn us, the man tosses a glass bottle, hitting the pavement and spreading out into pieces just behind us.
My heart is pounding after realizing the seriousness of the situation.  As we quicken our pace, Jeff calls out that we can turn right ahead. As we turn the corner, a barricade of burning tires awaits us. Glancing back again, one last time, no one questioned heading through the burning tires.
Crossing the burning tires, we knew we have made it to safety… for the moment.  We continue running down this side street.  Jeff hands me my phone from the moto so we can search for a path back onto the main road and hopefully stay clear of the protests.
All the while, the ambulance had been blocked back by the well-placed TapTap.  They call telling us to turn around, unbeknownst to them we had barely made our way out of the mess.  We quickly find out that they are stuck, really stuck.  They drove down another street and ended up in the middle of a mob.  It was then they find out that four men were killed during the morning protest.  Trying to flee the area, they at one point had Haitian men physically bouncing the ambulance over in hopes that it could point it in a different direction.
Meanwhile we are free of the protests in Saint Marc.  We have hit the open road with the city well behind us.  It is the only road in sight, disappearing off into the high mountains miles in front of us.  Nothing but cactus, bushes, and dirt are to the side of us.
Now, after almost two hours, we have depleted our motorcycle stashed water supply.  Could this be timed any worse.  We are now in the middle of Haiti.  No gas stations here.  No U.S. Federal mandated rest stations.  Seeing a few people, I try asking how far to the next market.  The answers varied from an hour to people telling us to turn around.  We end up coming across a man that said he had coke-cola drinks.  Well, what do you do!?  Jeff on the moto drives to his shack house on the side of the road and purchases some cokes.  What better for a marathon, huh 😀 
With the ambulance still playing hooky back in Saint Marc.  All of us, drinking Coke-Cola for some hydration.  This day is going down in my top 3 craziest days in Haiti.  The list is currently (1) Using GPS to Track Our Stolen iPad in Haiti (2) Moto Ride Turned Dangerous at Rebel Army's Barricade and (3) Today!
Looking at the stats, Barry is on day 9 of a run across Haiti to raise money for a new maternity center.  Never once did he say, this isn't worth it.  He continued to press-in even during the most difficult of times.  Myself, in full support of the much needed maternity center, really only planned on being the support moto driver. I did not anticipating running a marathon. Here I am, finding myself 10 miles into the run.  I really don't have much of a choice.  There isn't a vehicle to jump into, that's for sure!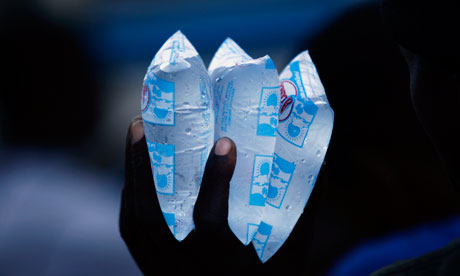 Later, we did find a small market where I could buy a bunch of water packs.
The biggest need at this point was getting the ambulance to us so they could stretch out Barry.  He was hurting and off his scheduled stretching.  I attempted to help stretch him out but without a table we did it on the ground.  Just to put some icing on the cake, we did it on a fire ant colony.
"Ahh.. Ouch… Oww!!", Barry shouted.
Oops, I was thinking we were stretching him to far :-D.  He jumped up with a ton of ants climbing around him!  Yep, marking that as a fail!
 Thankfully, around mile 12 the ambulance was able to speed up to our location and give us proper hydration, nutrition, and support.  The crew in the ambulance went through some pretty tough times trying to evacuate the city but we were thankful everyone made it through.
At the end of the day,
– The most important person, Barry made it!
– It was an honor to run with Barry.
– It was a finish to my 2nd ever marathon.
– The most amazing part was that my cheap Chinese built moto made it another day.
– Mesi Jezi!